Fabulous Floors Nashville
Fabulous Floors Nashville has become one of the most respected and dedicated hardwood floor companies in the Nashville area. Our team of experienced professionals bring many years of combined experience in each of the hardwood flooring services that we provide to Nashville, TN and the surrounding cities. We take pride in our innovative methods that allow us to deliver the best end product possible to our customers in Nashville, TN. One thing that sets us apart from other wood renewal companies in Nashville is our dedication to continued excellence through studied routines. Our continuous research and training results in decreased costs, improved results and an overall higher satisfaction for those who choose to work with our team here at Fabulous Floors Nashville.
Fabulous Floors Nashville is dedicated to outstanding customer service, a better understanding of flooring craftsmanship and higher standards and work ethic, which is clearly visible in our work. We run a trustworthy company and we are backed by the support of our many satisfied customers throughout the greater Nashville metro area, including Brentwood, Franklin, Smyrna, Murfreesboro and the surrounding areas.
Our Wood Floor Resurfacing Service in Nashville:
Thrifty. It costs much less than a full refinish.
Value. Increase the value of your home or office.
Streamlined. The great thing about our resurfacing service is that it takes only hours instead of days.
Durable. The final finish we use is durable polyurethane for long-lasting use.
Options. We carry a selection of high-gloss, semi-gloss, and satin finishes!
Easy cleaning. Properly finished hardwood floors make cleaning a breeze.
No dust. We leave your home dust-free and healthy.
Efficient. Nicks and scratches are polished away without sanding down to the bare wood.
Hassle-free. We take care of all the heavy lifting for you, allowing you more time to work on you busy day without worrying about your flooring project.
Time. Save time and avoid the back-breaking labor.
Clean. We honor and respect your home as if it were our own, so you can trust us to clean up our mess.
99¢ Dustless Resurfacing
Learn more about our traditional 99¢ per square foot dust-free hardwood floor resurfacing process.​
Resurfacing vs. Refinishing
Resurfacing is dustless, odorless, and takes out nicks & general wear. The process takes less than a day and enhances the color of your floors!
Refinishing creates some dust & requires sanding down to the bare wood. We stain the floors and apply a thin coat of polyurethane for protection over the next 3-4 days.
Greenguard Certified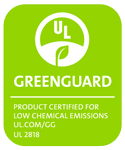 The GREENGUARD Certification Program assures our customers that our services meet strict health standards. This standard of certification helps us prove that our quality services are designed to keep your home and your family safe and clean.